Our Country's Flag

Our Country's Veterans
Educational comic books from FlagComics.com are distributed exclusively by American Legion Emblem Sales, the official sales arm of The American Legion.

Every purchase of these educational comic books helps support Americanism education programs for young people.

American Legion Emblem Sales is also a great source for a wide range of quality American Flags. Your purchases help support the programs of The American Legion, the world's largest veterans organization.
ORDERING IS EASY!
Just Call Toll Free To Order 1-888-453-4466
Monday to Friday 7 AM to 6 PM Central Time
Use your MasterCard, Visa, or Discover Card

1 to 99 copies $.
85
each
plus shipping
100 copies or more $.
69
each
plus shipping
Or
ORDER ONLINE
anytime using these quick links:
Note: For larger quantities please order by phone.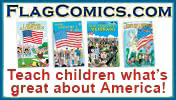 Copyright ©2023 Custom Comic Services